Charlotte, NC., May 15, 2019 … Hendrick Construction teamed with architecture firm RBA to compete in CANstruction benefitting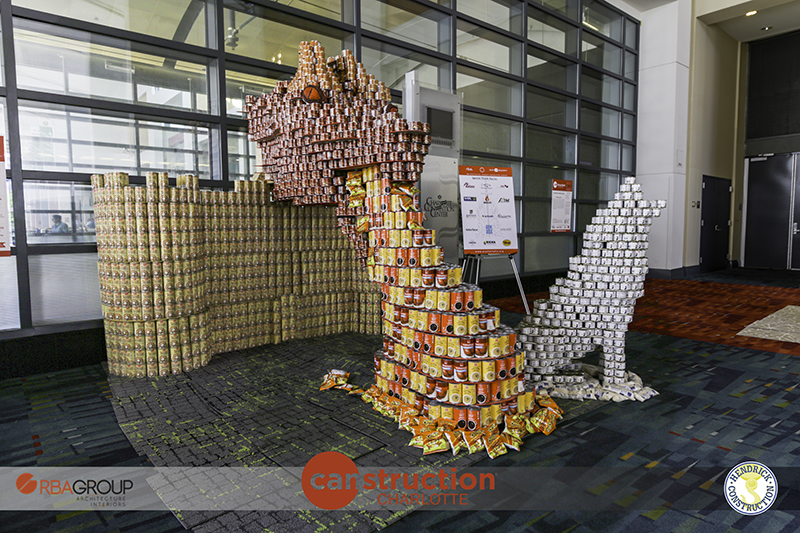 Second Harvest Food Bank of Metrolina recently. This unique event, sponsored by AIA Charlotte, combines the competitive spirit of a design/build competition with a way to help feed the hungry in the Charlotte area.
"More than a half a million people in our region live at or below the poverty level, and 42 percent of those are at risk for hunger are children and seniors," said Roger Hendrick, president of Hendrick Construction, Inc. "It is rewarding to use our skills and talents to help meet the needs of our community."
At the event, competing teams showcased their talents by designing and building sculptures made entirely out of canned food. At the close of the exhibition, all of the food used in the structures was donated to Second Harvest Food Bank.
RBA provided the brains for the design and calculated how many cans and what sizes were needed to construct the structure. In total, Hendrick Construction used 3,441 cans to build the 10-foot tall, eight-foot wide structure during the four-house build process. Second Harvest estimates the cans used in this build will provide more than 2,345 meals to the hungry.
The team worked for three months planning its design and build. Partners, including Absolute Fire Control, Air Charlotte, Applied Waterproofing Company, Carolina Outdoor Services, Garmon & Company Inc., Summit Glass Contractors, Tri Area Electrical Construction and Wayne Automatic Fire Sprinkler, contributed generously to help purchase the canned goods for the team's structure.
At the conclusion of the event, Hendrick Construction and RBA were presented with the People's Choice and Most Cans Used awards. Close to 2,000 people voted the Hendrick/RBA structure their favorite.
In total, this year's event raised 30,031 pounds of food which will provide more than 25,000 meals for Second Harvest to distribute to the hungry in our community.
Hendrick Construction, Inc. is a Charlotte, N.C.-based general contractor that provides commercial construction services throughout the Southeast. The company's portfolio includes facilities for corporate headquarters, manufacturing, industrial, health care and bio-tech companies, as well as schools, government buildings, churches, entertainment venues, restaurants and hotels. Visit www.hendrickconstruction.com for more information.